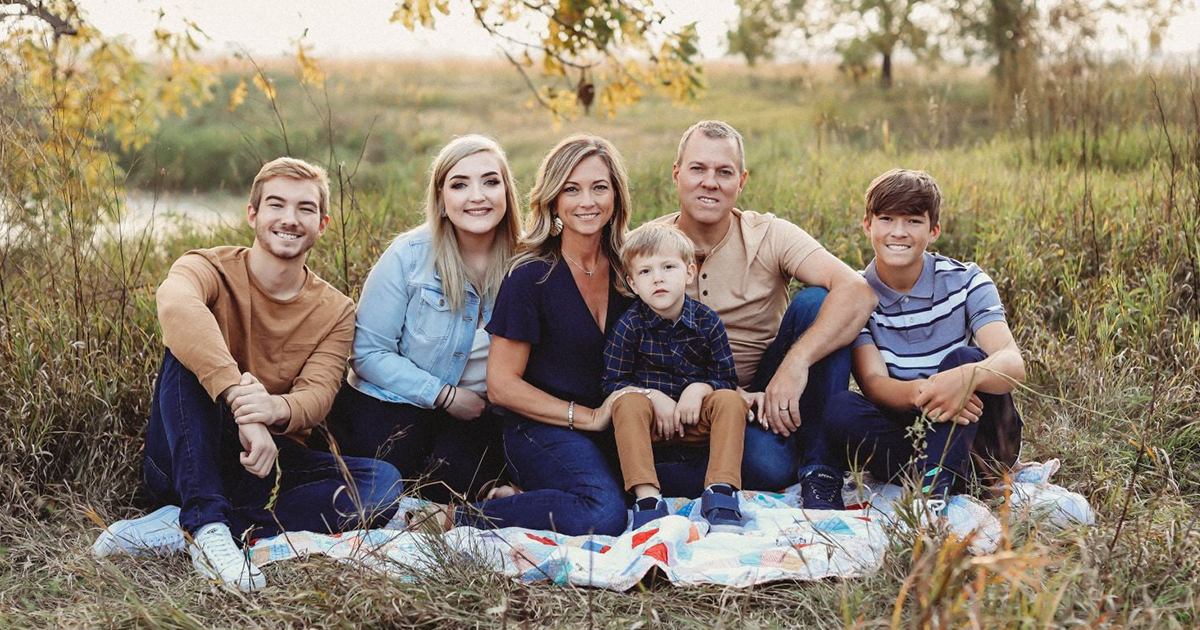 For as long as she can remember, Nikki Barkhaus, RN, has gone out of her way to help others. If she sees an opportunity to make a difference in someone's life, she pursues it with everything she's got. It's just who she is.
But it hasn't always been easy.
For Nikki, serving others has meant trusting her gut, stepping outside of her comfort zone and taking a leap of faith into the unknown to meet the needs of the community she's always called home. It's been challenging, but she said she wouldn't have wanted it any other way. The sacrifices she's made and the challenges she's overcome have all been worth it.
Now the owner and practitioner of Wholistic Health Center here in Altoona, Nikki Barkhaus empowers community members of all ages to unlock their true potential by giving them the knowledge, resources and care they need to live long, happy and healthy lives.
This is her story.
FOR NIKKI, HOME IS WHERE THE HEART IS
Nikki has always held a deep affection for Altoona. This place has been the backdrop of so many important moments in her life—it's where she grew up, went to school, met her husband, raised her children and eventually where she started her own business.
As Altoona has grown and evolved over the years, Nikki has witnessed its transformation with excitement and enthusiasm. She appreciates the town's commitment to progress and development, while still preserving its natural beauty and embracing an outdoor lifestyle.
But Altoona isn't just a place, at least not to Nikki. It's a tight-knit community made up of loving, dedicated people (like herself) who genuinely care about the health, prosperity and happiness of everyone around them.
HEALTH IS WEALTH FOR GROWING COMMUNITIES LIKE ALTOONA
Having worked in pediatrics, cardiology, mother/baby/gyno, family practice and home healthcare since she first entered the medical field in 1997, Nikki knows just how important it is for individuals to put their health and wellness first.
And she's acutely aware of how this extrapolates out to entire communities, understanding that access to high-quality healthcare is the foundation on which all progress is built.
You can't have a thriving community without thriving people.
That's why Nikki became increasingly concerned once she began noticing more and more of what she believed to be fundamental shortcomings in the conventional healthcare system. She felt like it was focused more on treating patients' individual symptoms instead of addressing the root causes of them.
But she had hope.
DISCOVERING AN OPPORTUNITY TO MAKE A DIFFERENCE
Holistic healthcare, a patient-centered approach that addresses all aspects of an individual's health and lifestyle, stood out as a potential solution to the problems Nikki was observing.
"The reality is that we are exposed to toxins even before we are born, and everywhere around us as we go through life. Our bodies are built with an amazing immune system, but the stress of toxins or pathogens can be overwhelming as we age," she said. "This is where a holistic approach can be more beneficial to naturally restore health & vitality."
Nikki went on to say that she collaborates with other local providers when there is a need for further assistance in a person's healthcare needs.
Though Nikki had been gradually learning more about this field of medicine over the course of her career, she didn't fully realize how impactful it could be until she experienced it for herself as a patient. She described the experience on her website.
"In the fall of 2018, I was feeling very fatigued, had no energy, was not sleeping well, and had gut issues that I battled for years," wrote Nikki. "I felt a strong need to be part of a solution to our healthcare crisis and also take a stance to protect my own health. I literally prayed for the right opportunity to present itself so that I can make a difference in this world and to the people I love."
Then came the opportunity she was looking for.
"A friend at work told me about a natural health nutritionist new to Des Moines that I might be interested in seeing. I started following her social media pages for a few weeks, loved what I saw, and made an appointment," she wrote. "Since December of 2018, I have been amazed by the results experienced by thousands, including myself."
Nikki's gut was telling her that it was time to act. If she could take the steps to become an expert in this field, she could help others—especially the people in her beloved hometown—find relief for their problems and drastically transform their lives. But doing so would mean leaving her job as a nurse with UnityPoint. If she was going to make the changes she wanted to make, she'd need to blaze her own trail. And that's precisely what she did.
TAKING A LEAP OF FAITH
In 2019, Nikki graduated from training at Ulan Nutritional Systems to become a nutrition response testing (NRT) practitioner. Then in 2020, the time had finally come for her to start her own practice, which she titled "Wholistic Health Center."
Nikki had never owned or run her own business prior to this, but she didn't let that stop her.
She said this about the process of getting started: "I mean, I really just had to learn on the fly…asking a lot of questions to people who have been doing this a lot longer than me—other business owners and people in the community."
"I knew I had to join the Chamber [of Commerce]," said Nikki. "I knew it was going to be one of those things for helping me grow and network…that made a big difference in my journey."
STEPPING IN TO HELP
At first, Nikki's journey as a new business owner took her out west to Clive, where she rented space in a chiropractor's office and began seeing patients. It was quite a distance away from where she lived and grew up, but at the time it was the best available option.
As her company grew, though, so did her desire to return to the Altoona community, which still didn't have a well-established local holistic healthcare practice. She knew that there was a service gap here that needed to be filled. And, luckily for her, so did a vacant office space on 8th St SW. If there was ever going to be a sign that she needed to come back to Altoona, this was definitely it.
So, in October 2020, she made her homecoming. Nikki knew right away that she had made the right decision. She said, "I did have so many people tell me, 'Oh, I'm so glad you're here, it's much closer!'"
Things were going well. So well, in fact, that by the fall of 2021, her business outgrew its old office and moved into a new one about a mile west. Ever since then, Nikki and the Wholistic Health Center team have continued their growth journey, further solidifying their reputation as a unique, local healthcare business striving to change bring positive change to the greater Altoona community.
Nikki is continuing her passion to help others through education as she is currently studying to be a certified FDN-P, Functional Diagnostic Nutrition Practitioner. "This will open more doors for me to be a virtual health practitioner for those living further away and do more with functional labs to find the root cause of a person's ill health," she said.
IT'S WHAT YOU DO FOR THE PEOPLE YOU LOVE
Nikki feels incredibly thankful to be both living and working here in the Altoona community. She said, "It's been really heartwarming seeing my community embrace what I do as much as they have."
"When it gets stressful, I just have to stop and remind myself where I'm at and how far I've come," Nikki added. "I'm just really grateful that I get to do what I do in the community I'm living in—that I was raised in—surrounded by people that love and support me."
In addition to starting her own health practice here, Nikki works to support the Altoona community in a number of other ways, whether it's getting involved with the many Altoona Area Chamber of Commerce events, volunteering at her church, donating essential products to homes for women & children, or supporting one of her staff members who organizes a drive each holiday season to send hope-filled cards to kids battling pediatric cancer.
Like we said earlier, if there's a way for Nikki to help others—whether they're patients, family, neighbors or strangers—she'll give it everything she's got. It's what you do for the people you love.
EXPLORE ALTOONA
Thanks for reading this #PeopleofAltoona feature!
Just minutes from Des Moines, Altoona is home to amenities that everyone can enjoy—from major entertainment attractions and shopping destinations to beautiful metro parks—as well as good schools, cozy neighborhoods, fun community events, and a thriving economy.
Want to learn more? You can meet the Altoona resident who's nourishing Eastern Polk County's underserved youth, learn about a City Councilman's passion for service, or discover more about life in Altoona.