With more than 1,600 acres of development-ready land, Altoona is Iowa's rising star.
Our properties are located just minutes from downtown Des Moines – offering access to clean-energy sources, major interstates, and a highly skilled workforce. With a prime location and leaders who listen, we're perfectly suited for a variety of industries: from retail and residential to manufacturing, logistics, data and beyond.
Ready to join the movement? Discover our featured properties below, or view our complete searchable database of available properties here:
---
Featured Property: 9th Street NE Development Sites
200 ACRES NEXT TO I-80, IDEAL FOR INDUSTRIAL OR MANUFACTURING Take note, industrial and manufacturing business owners. These sites on 9th Street NE in Altoona Continue
---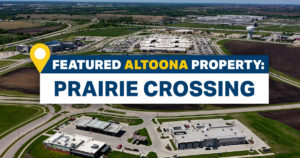 Featured Property: Prairie Crossing in Altoona, Iowa
Tons of Mixed-Use Land & Retail Space, in a Booming Des Moines Entertainment Hot Spot An abundance of exciting development opportunities can be found at Continue
---
Hubbell Avenue & 34th Avenue Development Opportunity
32 acres of opportunity, right in the heart of Altoona's entertainment scene. This land in Altoona (between Hubbell Ave and 34th Ave SW) is perfect for commercial or multi-family residential development. Continue
---
Featured Properties: I-80 Business Park & Altus Commerce Center
The I-80 Business Park sports 55 acres of development-ready land, with expansion opportunities to the west. Plus, it's ideally located in the heart of a vast transportation network, leading to streamlined logistics and close customer proximity. Continue
---
Live the Good Life at These 2 New Altoona Properties
Located across the street from one another on Altoona's 34th Ave SW, The Emory and Vintage Cooperative could hardly be closer. At the same time, Continue
---
Altoona Plans to Build a Literal Bridge to Opportunity for Industrial Businesses. But First...
Just beyond Mud Creek, near the eastern border of Altoona, lies a plot of land that checks all the boxes for industrial development. Continue
---
In Altoona, What's "Olde" is New
As the Altoona community begins to restore and revitalize Olde Town, businesses and developers are taking a fresh look at the downtown district. Continue
---
Nature next door: This Altoona neighborhood is home to a brand-new park
Residents of an Altoona neighborhood are saying 'hello' to a new next-door neighbor: an expansive, beautiful park. Continue
---