October 2017 Grand Opening Planned
New England Development announced today that construction work will be in full swing this month on the Outlets of Des Moines property in Altoona, Iowa. Opening in October 2017, Outlets of Des Moines will feature some of the best brand names in retail. The 300,000 sf outlet center will be located at 801 Bass Pro Drive NW at the intersection of I-80 and US-65, an established destination for entertainment and shopping.  
Beginning this week, construction teams will be underway on the site, which is part of the 175-acre development known as The Shoppes at Prairie Crossing. Approximately 500 jobs will be created during the construction period.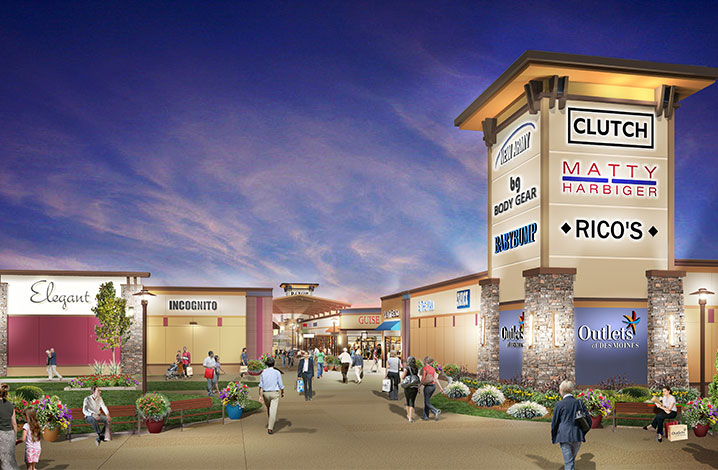 Ryan Companies US, Inc., a national developer and design-build contractor with a large Des Moines office, will be managing construction for owner and developer, New England Development. Elder Corporation, one of the Midwest's leading site development firms, based in Des Moines, will continue as site contractor and KJWW Engineering Consultants, a global engineering firm headquartered in Illinois and with offices in Des Moines, are the structural engineers for the project. Snyder & Associates, a Des Moines area engineering and planning firm, will serve as the civil engineers and landscape architects and HFA/Allevato, a Massachusetts-based architectural firm that designed New England Development's outlet centers in Arkansas and North Carolina, is the Outlets of Des Moines project architect.
The Outlets of Des Moines Enhances Altoona's Prominence as Major Destination
Michael Barelli, Vice President of New England Development, expressed his enthusiasm in announcing this new phase of construction. "We are excited to move forward with construction as we work toward our October 2017 grand opening. We're appreciative of the time and support that local officials, especially the City of Altoona's staff and City Council, have devoted to the project."  He continued, "Outlets of Des Moines will generate hundreds of new jobs, attract over 1.5 million visitors, and add even more energy to the Greater Des Moines market." 
The Mayor of Altoona and the Altoona City Council worked cooperatively with New England Development to secure this opportunity. Jeff Mark, City Administrator for the City of Altoona, commented, "The City of Altoona looks forward to the opening of Outlets of Des Moines and thanks New England Development for bringing this first-class project to our community."
He continued, "The arrival of Outlets of Des Moines will enhance Altoona's prominence as a major destination for travelers to central Iowa. Altoona has long held the distinction of being Iowa's entertainment capital. Outlets of Des Moines, combined with Prairie Meadows, Adventureland and Bass Pro Shops, solidifies that position while making Altoona a great destination for retail shopping."