Station 700 doesn't look anything like Altoona's old police station or public library, though it was both of these things in a past life. And it certainly doesn't feel like it was built 5 decades ago.
It's just too stunning, too polished.
This unrecognizably brilliant appearance is exactly what Natalie Umsted and Bryan Friedman had in mind for the property when they purchased it back in 2021. From the get-go, their goal was to breathe new life into this storied space—and give it a new purpose.
As co-founders and owners of Goldfinch Growth (now an award-winning adaptive reuse development firm) they were the perfect people for the job. They executed their vision masterfully.
Here's how it all went down.
A UNIQUE BUILDING (OR TWO) WITH A UNIQUE BACKSTORY
Before there was a library or police station, there was a charming little bungalow home.
Natalie said, "There was a house here that had been built by a man for his fiancé. The wedding fell apart…he gave the house to his sister. Upon his sister's death, she donated the building to the City of Altoona for a public library."
But toward the end of the 1970s, the home (which had only been a library for about a decade at this point) started to feel pretty cramped. It was time to build something bigger—much bigger. The city did just that, cutting the ribbon on a new 5,000-square-foot facility in 1984.
This new library was quite the upgrade, considering its predecessor was a roughly 900-square-foot single-family home. However, it didn't keep up with our community's rapidly accelerating growth for very long.
In 1998, the Altoona Public Library packed up its books and moved to its current location—a 19,000-square-foot literary treasure trove just off 8th Street SW. The Altoona Police Department took over the old building shortly thereafter, where it remained for over two decades before taking up residence in the brand-new city hall.
Fast forward to early 2021. For the first time in decades following the Altoona PD's exit, the building at 700 1st Avenue sat empty, without immediate plans for new tenants to move in. Its future was totally up in the air.
Goldfinch Growth was about to change that.
A COMPLETE OVERHAUL, FROM FUNCTIONALITY TO AESTHETICS
It's no secret that the former Altoona Police Station was a bit long in the tooth when Goldfinch Growth purchased it in April of 2021. So, what was the appeal? Why did Bryan and Natalie make the decision to buy it?
Here's the short answer: potential.
"We thought the building was in great shape, and it really fit our goals for the high-quality kind of development that we thought the Altoona market could support," said Bryan. "It had a great location on 1st Avenue and [was] just a block off of the main 8th Street corridor for commercial properties."
But obviously, location isn't everything. Bryan and Natalie knew that the building needed a serious makeover if it was to attract any tenants in the future. They began overhauling pretty much everything about it—layout, looks, and all.
"We looked for ways for the building to create shared spaces that could create efficiencies for small businesses," said Bryan. "So, we [added] a shared conference room. Shared break room. Shared restrooms."
Interestingly enough, the aforementioned conference room actually used to be the Altoona Police Department's old interrogation room. It featured a beautiful glass rotunda, which Goldfinch Growth incorporated seamlessly into the building's new aesthetic.
And speaking of aesthetics, Natalie and Bryan took Station 700's in an entirely new direction. They refreshed every square inch of the property. Marble floors replaced their linoleum counterparts. Warm, stunning lighting systems took the place of cold, fluorescent ones—and so on.
Today, walking into the place, you don't immediately think about what Station 700 used to be. You're just impressed by what it is right now. That being said, Natalie and Bryan took great care not to cut all of the building's ties to the past. In fact, the name "Station 700" is an homage to its history, referencing its use as a law enforcement facility with a nice tie-in to its street address.
Needless to say, tenants thought this was all pretty neat.
HOME TO 3 OTHER FEMALE-OWNED BUSINESS
Station 700 is home to four female-owned businesses—Justified Beauty (a permanent cosmetic studio, Healing Rock Counseling (a mental health counseling clinic), Be Well Pediatrics (an integrative pediatric medicine practice), and of course, Goldfinch Growth itself.
JUSTIFIED BEAUTY
Jennifer Muchmore, founder of Justified Beauty, said that Station 700's layout has been uniquely advantageous for her company.
"I love the fact that there's two other suites in here," said Jennifer. "We get some crossover traffic for [our] business. We have a lot of female clients that are kind of passing through the door. When they're walking by, they see your signage."
Jennifer added that Station 700's connectedness also impacts the way she interacts with her entrepreneurial counterparts in the building. She said, "It's a good networking opportunity. And I think Natalie and Bryan have been good about including us."
HEALING ROCK COUNSELING
Cara Sanders, practicing counselor and founder of Healing Rock Counseling, was drawn to Station 700 in part because of its serenity. "I think the space is very calming," she said. "It makes you feel sort of at home. It's very clean, it's very nice looking."
But the property hasn't just been conducive to the work Cara does with her patients. She also mentioned that it's helped her discover a sense of community. "It's been really neat to connect with other female business owners," she said.
"We're all very different personalities and run very different businesses, but we're all extremely supportive of each other and will connect and kind of cheer each other on and grow," said Cara. "It's been really nice to have that kind of connectedness."
BE WELL PEDIATRICS
Dr. Callie Williams, owner and founder of Be Well Pediatrics, was on a tight schedule when she decided to open up her own practice. Finding Station 700 helped her settle into a groove.
"It was like, 'I have two months, where am I going to open a practice?' I looked around in town…and came across Natalie and Bryan in this location," she said. "When I came here, it just felt really natural. They were so kind and so helpful and supportive. I just felt like, 'this is where I'm supposed to be right now.'"
To Callie, the backstory of Station 700 is impactful in its own right, seeing as the building has always been an important part of the Altoona community.
"I think this building is really neat because of the history. It was the public library and then the police station. So that's pretty neat just to have that history when you're here," she said. "And then I love that there's other businesses here as well because you can just kind of see how they're doing. And you just have that community of people."
WHY ALTOONA?
Neither Bryan nor Natalie are originally from Altoona, but they've grown very fond of our business-friendly community since coming here. And they have no intention of leaving anytime soon.
"With adaptive reuse projects," said Bryan, "there's always unexpected things that come up. And when those came up, we were impressed that the City of Altoona…really found ways to help work with us and come up with some commonsense solutions."
Natalie said, "We really like working in the Altoona community, and we're kind of constantly keeping an eye out for things that are becoming available. We really like what Altoona is doing in the Olde Town area…and we hope that we can participate in some way in that area in the future."
BUILT WITH THE FUTURE IN MIND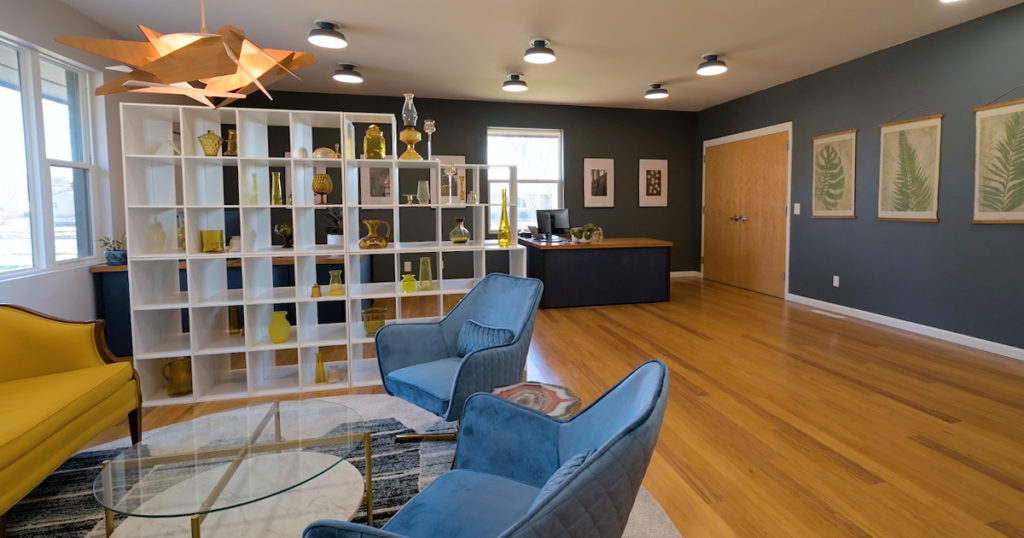 For Bryan, sustainability stands out as being one of the most important aspects of the Station 700 project, and of his field in general. He said, "Adaptive reuse is inherently a sustainable process because it utilizes all of the embodied energy and materials that it took to build the building in the first place."
"We did that by reusing this building at Station 700," said Bryan. "But then we took other steps by opening up more windows…to allow natural lighting into the building. We also changed all of the light bulbs to LEDs, and then we also used sustainable, durable materials ranging from marble to bamboo."
Natalie added how adaptive reuse projects also help foster a sense of community and create more diverse local business ecosystems.
"The most fulfilling part of really any project, for me, is seeing a space transform from being vacant, unused," she said, "and seeing it become a place that's a part of people's everyday lives. I love seeing business owners, customers, clients, and employees coming and going and using the building."
"Older buildings and reused buildings are more likely to be occupied by new businesses, local businesses, [and] minority and women-owned businesses," said Natalie. "And I think that Station 700, with four businesses owned by women, it kind of embodies that."
ABOUT ALTOONA
Just east of Des Moines, Altoona is a growing community that offers a high quality of life, numerous amenities, a thriving business community, and a bustling entertainment scene.
Want to learn more about life in Altoona? Start here.
Or, if you're interested in doing business here, you can learn more about our business-friendly environment here.