IN THE DES MOINES METRO,
HEALTHCARE IS A GROWING INDUSTRY
Healthcare is a $4.3 billion industry in the Greater Des Moines area, employing more than 55,000 workers and growing at a projected rate of 1.6% per year. The City of Altoona, Iowa's business-friendly home for growth, is welcoming providers looking to expand throughout the region.
ALTOONA IS RIPE WITH OPPORTUNITIES FOR FURTHER EXPANSION
A fast-growing suburb just 10 minutes east of Des Moines, Altoona is an ideal location for regional healthcare providers to open new clinics, treatment centers, and other medical facilities.
AN ESTABLISHED INDUSTRY HUB
Our business-friendly community is already home to a handful of successful healthcare facilities.
UnityPoint Health
Family medicine clinic
Urgent care facility
Physical therapy center
Blank Children's Pediatric
Therapy satellite location
The Iowa Clinic
Family medicine clinic
Primary care clinic
STEADY POPULATION GROWTH
There are approximately 20,000 residents living in the City of Altoona. Our population has increased by 35% since 2010 and is expected to climb another 6% by 2027.
PLENTY OF COMMERCIAL REAL ESTATE
Altoona has 1,600+ acres of development-ready land and a wide selection of commercial buildings available for purchase and/or lease, conveniently located near major transportation routes.
ALTOONA

BY THE NUMBERS 2022
3,989

Households

9,868

Households

22,820

Households

$105,592

Avg. Household
Income

$108,259

Avg. Household
Income

$96,562

Avg. Household
Income

$28M

Consumer Spending
on Healthcare

$71M

Consumer Spending
on Healthcare

$150M

Consumer Spending
on Healthcare

10,447

Total Population

25,577

Total Population

60,186

Total Population

34.6

Median Age

36.7

Median Age

36.7

Median Age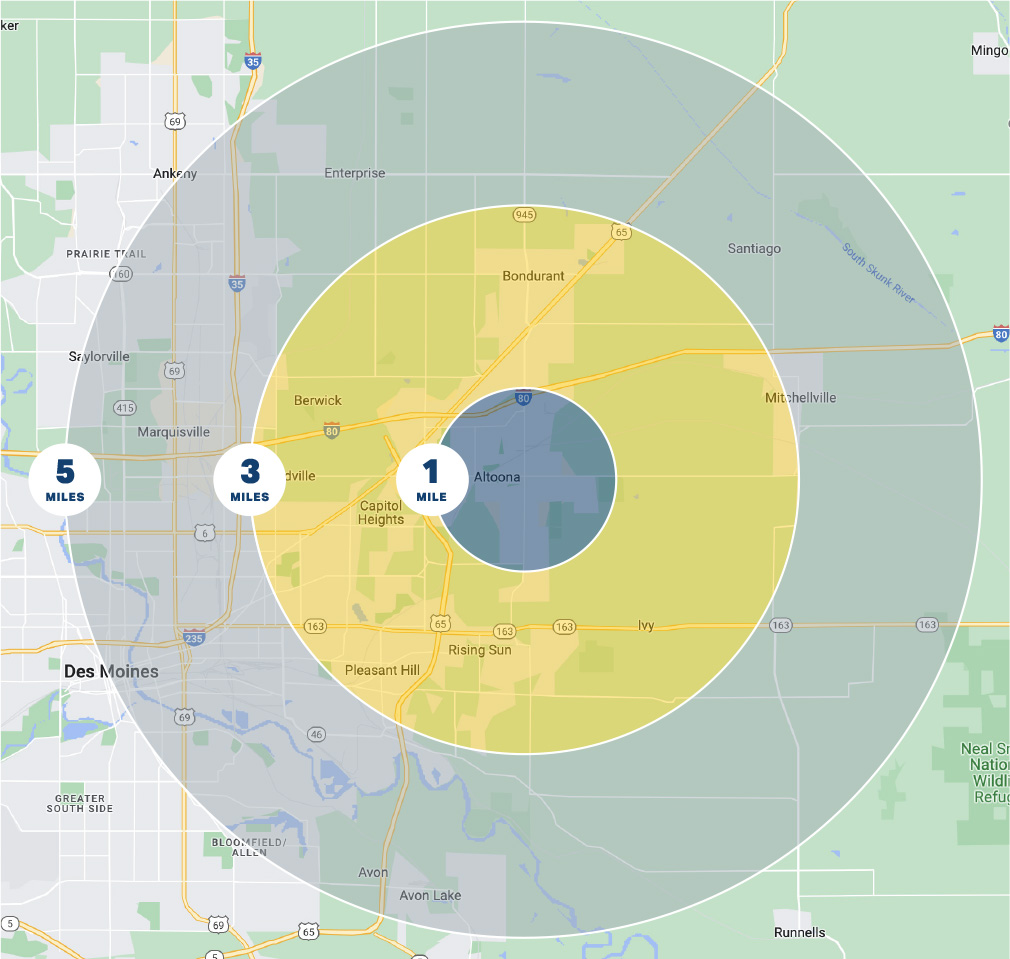 GET MORE INFORMATION
To learn more about healthcare opportunities in our business-friendly community, please Contact Chad Quick,
Economic Development Director for the City of Altoona.
Chad Quick | Economic Development Director, City of Altoona
(515) 957-5117
|
cquick@altoona-iowa.com