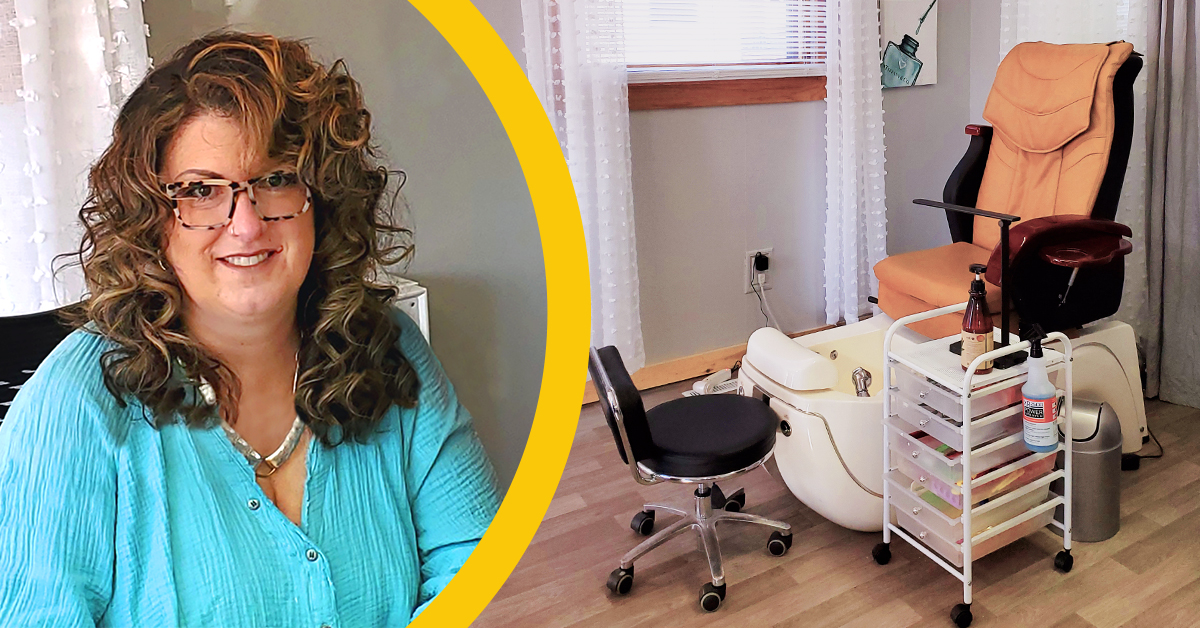 While most of us look at a fingernail and see, well, a fingernail, Kim Nissen sees a canvas—a small but nonetheless exciting plain of possibility on which to create her next masterpiece.
Kim, who recently opened Polished Edge Nail Spa along Altoona's 1st Avenue, knows a thing or two about working with a blank canvas. Growing up, she lived on a family farm in South Dakota. And while she enjoyed the peaceful, quiet atmosphere of the open plains, she always had a creative spark, an active imagination, and an eye that saw beauty wherever she looked.
She may have been born to a farming family, but she wasn't born to be a farmer.
Kim was a budding artist.
Although she always had an abundance of creative energy, it took Kim years to find an outlet.
In 1989, the Nissans moved to Altoona, where Kim's husband had just landed a job at a local plumbing business. She quickly fell in love with the community. Although Altoona was, at the time, much smaller than it is today, things were starting to pick up, as new residents and businesses moved into the area.
For someone who had grown up on a farm but dreamed of living in a city, Altoona felt like the right size—not too big, not too small. And when she wanted to indulge her creative side, there was always the arts and culture scene of downtown Des Moines, just a short drive from home.
In Altoona, Kim and her husband had found a community they were proud to call home. Over the next 10 years, they would put down roots and begin to grow their family, welcoming two sons into the world.
But life happens. And after living in Altoona for a decade, in 1999, her husband's work brought the family to Nebraska.
At the time, Kim was reluctant to leave Altoona – this was her home, the place where they had raised their sons – but Nebraska turned out to hold the key to her future. In 2007, while driving through Omaha, Kim happened to stumble across the College of Nail Design. She hadn't planned on opening her own business, but as soon as she saw the college, she knew she had found the perfect outlet for her artistic and social energy. Here was a way for Kim to explore her creativity and spend time with her friends and neighbors—and get paid for it.
"Right away, I was hooked," she said.
It wasn't long after enrolling in the college that Kim opened her first salon, in 2008. The rest, as Kim says, is history.
In 2021, with 13 years of professional experience at her back, Kim and her family returned to Altoona—and she brought her business with her.
Although they ultimately returned because of her husband's career – he took a position at a VA hospital – Altoona offers Kim the perfect canvas on which to build her business. Over the last two decades, since the Nissens left Altoona, the local population has more than doubled. Meanwhile, attractions like Outlets of Des Moines draw millions of visitors to the community each year.
In other words, Kim has no shortage of customers.
Her location helps. Located at 205 1st Avenue South, in the Cut Loose Hair Salon building, visitors to Olde Town pass Kim's business on their way to and from Altoona's historic downtown. Recently, local civic leaders, business owners, residents and developers have teamed up to revitalize the Olde Town district, bringing new events, businesses and features – and new customers – to the area. That means more visibility for Polished Edge, which means that Kim can keep pursuing her passion.
While Kim's business offers a wide range of services – from gel to acrylic nails – her true passion lies in nail art and custom designs, services that allow her to channel the creative energy that's been with her since her days on the family farm.
She also loves people. As she works, Kim likes to chat with her customers, who are often her friends and neighbors.
"My favorite parts are the creativity and building relationships with my clients," she said. "One of the things I love most about Altoona is the sense of community. Through my work, I get to stay in touch with people I care about and provide a good service; in return, they support my business. We're here for each other."
Her future plans? Although Kim has a big imagination, she prefers to work with a small canvas. Today, she is the sole proprietor of her spa, and she has no intention to expand. Her business is relatively small and she's already building a loyal customer base, which means that Kim can spend her time doing what she loves in the community she calls home.
She wouldn't have it any other way.
About Altoona
Just east of downtown Des Moines, Altoona is a growing community with a population of 20,000 and nearly 4 million visitors each year. With a high quality of life and a business-friendly environment, Altoona offers a perfect canvas for entrepreneurs like Kim to pursue their dreams.
To learn more about our community, take a look at how we're revitalizing our historic downtown, learn how MidAmerican supports local businesses and residents, or meet the resident who literally wrote the book on Altoona.