It often takes a power outage to get us thinking about the energy we use every day. (Electricity suddenly became very interesting following the 2020 derecho.)
But ever since MidAmerican Energy launched their Altoona-based Service Center in 2019—a facility that supports the power MidAmerican delivers to communities throughout the Central Iowa region—energy has been on our minds.
We all know that we depend on power: to cool our homes, to cook our dinners, to do our work, to do… well, just about anything.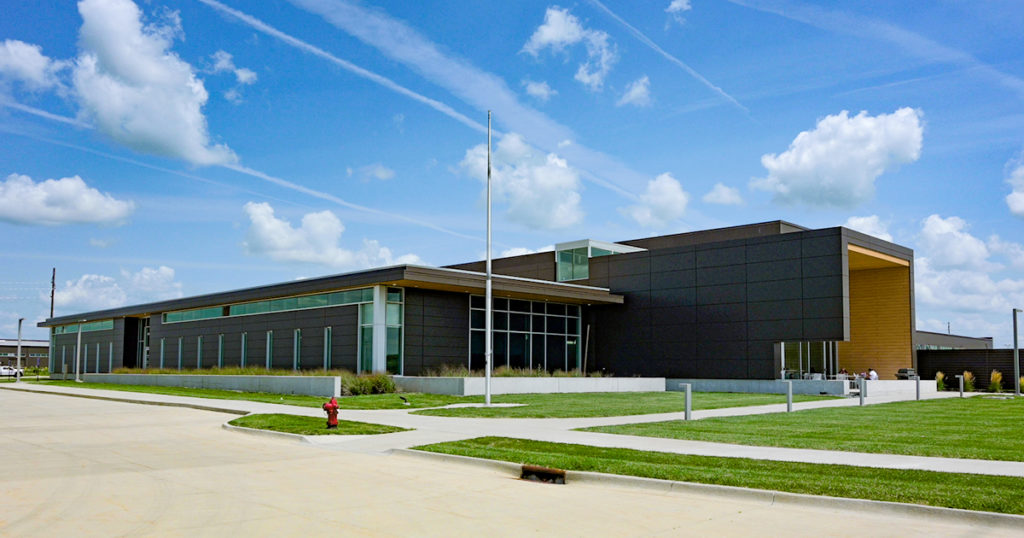 And most of us already know that the electricity and gas flowing through our communities comes from MidAmerican Energy Company, an organization headquartered in Des Moines that meets the energy needs of more than 1.6 million customers across Iowa, Illinois, Nebraska and South Dakota.
But when we sat down with Kathryn Kunert, MidAmerican's Vice President of Economic Connections and Integration, we learned that energy impacts communities in ways we had never considered—and that MidAmerican is providing much more than 'just' energy.
Here are some of our key takeaways:
Companies choose where they want to do business based on utility rates.
The cost of local energy is one of the top three factors a business considers before selecting a location. Fortunately, MidAmerican provides electricity and gas at some of the lowest rates in the nation, helping Altoona and other communities retain and attract businesses.

Using sustainable energy actually helps MidAmerican Energy keep costs low.
This one surprised us; we always assumed that sustainable energy would be more expensive.
However, since pledging to work toward 100% renewable energy in 2016, an increasingly high percentage of the energy that MidAmerican provides has come from sustainable sources. In 2020, a whopping 83.6% of the energy they provided customers was renewable.
At the same time, customers' costs have remained low and their service as reliable as ever.
"It's interesting—one of the ways that we're able to keep our rates low is by using renewable energy," Kathryn said. "It's a low-cost energy. So the fact that we're able to bring on new renewables at no additional net cost helps us keep our rates low."
Providing sustainable energy gives their customers a competitive advantage.
As part of the company's Green Advantage program, MidAmerican verifies the percentage of renewable energy they provide to their Iowa customers each year.
Besides making us all feel a little better about the energy we use, this gives businesses a competitive advantage. Thanks to this program, manufacturers, retailers, breweries—any business that uses energy provided by MidAmerican—can tell their customers that their products were made using (as of 2020) 83.6% renewable energy. For customers that care about sustainability, that number is important. It's also one of the best in the nation, giving businesses in MidAmerican communities an edge.
MidAmerican's team cares about the communities they serve. And they show it.
Through the company's corporate citizenship program, CARES (that's Community Enhancement, Arts and Culture, Environmental Respect, Education and STEM, and Safety), MidAmerican makes a positive impact on the communities they serve.
The program, which includes investments from the company as well as good works from employees, has invested time, energy and resources in supporting communities in a variety of ways, from building homes and playgrounds to investing in schools, nature centers and more. The team even helped one community host a parade.
"We have a strong history of corporate citizenship," said Kathryn, who can recite the company's core values by heart. "We live and work in these communities, and we feel a responsibility to help them grow and be vibrant, healthy places."
In addition to the CARES program, MidAmerican invests in the economic development of the communities they serve through the EconomicAdvantage365 initiative, a program that helps communities retain and attract businesses.
"Our goal is to make sure they have the resources they need to promote themselves as a community of choice."
MidAmerican is showing the power of good stewardship.
Our biggest takeaway from our conversation with Kathryn is that building a strong community takes good stewardship, and good stewardship comes in many different forms—some obvious, some subtle, and some that we tend to take for granted.
MidAmerican has big goals for the future. The company is working toward providing 100% renewable energy for their customers and is striving to reach net-zero greenhouse gas emissions, while continuing to invest in the communities they serve and discovering new, creative ways to give their customers an advantage. At the same time, value and reliability are as important as ever, and the company is committed to providing their customers with some of the lowest rates in the nation and service that we can count on.
That might sound like a tall order. But by being a good steward, MidAmerican continues to prove that what's good for their company is what's good for our communities, our environment, our businesses, our economy, and our everyday lives.
Thanks for reading this business feature! To learn more about the Altoona community, check out Altoona's Olde Town revitalization project, take a tour of a beautiful new park at the center of town, or meet a local business owner who swung for the fences.