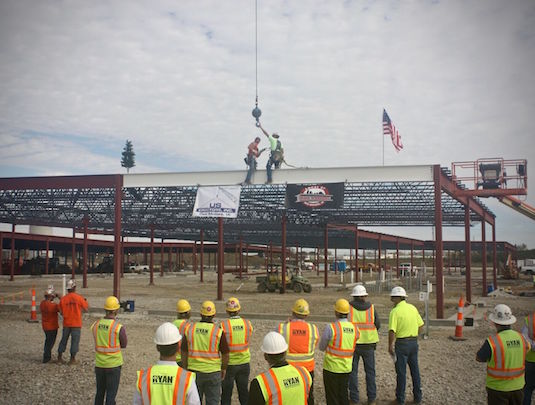 Originally published by: Patt Johnson | The Des Moines Register
Des Moines metro's newest shopping center will open in exactly one year — guaranteed.
The last load-bearing beam at the Outlets of Des Moines project in Altoona was put in place this week, which signals the project's skeleton structure is in place. Workers have started enclosing three of the outlet's planned nine buildings, said Mike Barelli, vice president of New England Development, the Boston-based company building the outlet mall.
The center, which sits behind Bass Pro Shops at the intersection of Interstate Highway 80 and U.S. Highway 65, is set to open Oct. 20, 2017. With projects this size, developers often give a more general opening date this far in advance, but Barelli said New England Development is known in the industry for setting opening dates early and sticking to them.
"We feel it's important to retailers," Barelli said.
Oct. 20 is a good date to catch early Christmas shoppers and allows retailers to keep the momentum going up to the holiday, he said.
The 300,000-square-foot outlet mall, which is at Interstate Highway 80 and U.S. Highway 65, will set up in a racetrack style, with about 75 stores surrounding a pedestrian concourse.
New England Development, which has outlet malls in Asheville, N.C., Palm Beach, Fla., and Little Rock, Ark., also is developing malls in Maryland and Michigan.
Barelli said the Altoona center is on schedule despite a rainy summer that construction crews were able to overcome. "We have a very aggressive construction schedule, he said.
The mall will open with about 100 percent occupancy, although the names of signed retailers is being kept under wraps until closer to the center's opening. New England Development will open an outlet mall in Clarksburg, Md., on Oct. 27 and announced the first group of retailers there in mid-July.
In the meantime, people interested in the progress of the mall can view a webcam of the construction site. The webcam, which refreshes every 30 seconds, is available at nedevelopment.com/projects/outlets-des-moines.