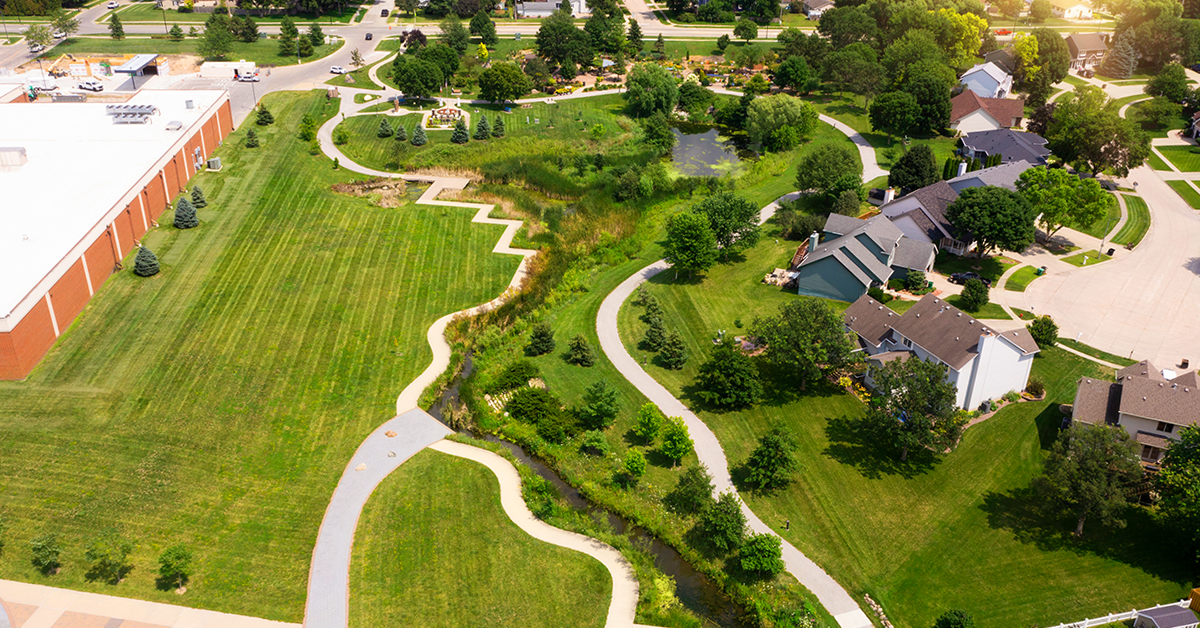 Altoona, Iowa is a city that could be aptly described as "just right". It's got that "big-city" atmosphere, boasting an exciting entertainment scene and plentiful business opportunities, but it's never lost sight of its charming small-town roots.
The potential for prosperity has attracted businesses, families, and visitors to Altoona since it was founded in 1876. To this day, it's still surging forward as a leader in Iowa economic development, providing a home to important companies like Meta and many others.
However, Altoona's not all about work—it's about play, too. The Altoona entertainment scene features all sorts of places to shop, eat, explore, and more!
But even with all this big-time buzz, Altoona remains a close-knit, welcoming place for residents and visitors alike. Numerous parks, trails, public art displays, community organizations, and other amenities help to make Altoona feel like home.
In short, Altoona is big and exciting, but not overwhelming. It's small and local, but not overlooked. Goldilocks never made her way to the Midwest, but if she ever considered relocating to Iowa, she'd likely say "just right" when she arrived in Altoona.
A BRIEF HISTORY OF ALTOONA, IA
Long before the City of Altoona was officially founded by white settlers in 1876, the area was home to different indigenous peoples for thousands of years.
In 1834, after 100+ years of conflict with French settlers and other indigenous tribes, the U.S. forcefully combined the Sauk and Meskwaki tribes to become the Sac & Fox Confederacy. A series of land concessions then led to the Sac & Fox formally losing all land in 1845, which opened the previously protected area to white settlers.
From there, westward U.S. expansion became the driving force of both economic and population growth. Iowa became the 29th state to join the U.S. in 1846. Nine years later in 1857, the state's capital was moved from Iowa City to Des Moines.
Accompanied by growing economic activity, the expanding Des Moines Valley Railroad reached Altoona in 1867. This led to the birth of Altoona as an official municipality.
In 1868, surveyor Julian B. Bausman laid out Altoona and gave the future town its name. He derived "Altoona" from the Latin word "altus", meaning "high." Why? Well, the land was located on a high point of the Des Moines Valley Railroad.
The City of Altoona was eventually founded in March of 1876. From that point on, the community began to grow in remarkable fashion. Over the many following decades, mining, agriculture, logistics, industrial, tech, and eventually entertainment and retail industries would help the city evolve into the Altoona that exists today.
KEY ALTOONA INSIGHTS
Now that we've heard the condensed report of its history, let's get some up-to-date Altoona developments.
BUSINESS-FRIENDLY CLIMATE
Altoona's municipal leaders, major employers, and skilled workforce have created a sturdy economic development alliance that's uplifted the status of the entire community. Key factors that have spurred Altoona development include:
ABUNDANT LAND & PROPERTIES
One of the many benefits of living in Iowa is the abundance of available space. Altoona land development, in particular, is especially ripe with opportunity. The city has hundreds of acres of strategically located properties, ready to be developed for commercial, residential, and industrial purposes.
Here are some differentiators that help make Altoona, Iowa real estate desirable for all sorts of uses:
More than 900 acres of development-ready land
Easy access to major transportation routes like I-80, I-35, U.S. Route 6, and U.S. Route 65
Multiple high-speed network providers (Mediacom, CenturyLink, and Mi-Fiber)
THRIVING ENTERTAINMENT SCENE
There is no shortage of things to do in Altoona, Iowa.
Looking for a bit of retail therapy? The Outlets of Des Moines and Bass Prop Shops are fantastic big-brand Altoona, Iowa shopping destinations worth paying a visit to.
If you're seeking out locations that are packed with all-day fun, look no further than Adventureland Resort and Prairie Meadows—two famous Altoona, Iowa attractions.
Adventureland Resort is a great family-friendly option, with more than 100 rollercoasters and water rides to explore. At Prairie Meadows, you can find all sorts of grown-up entertainment. Get your fill of everything from casino and racetrack action to live music and fine dining.
There are even more fun things to do near Altoona, Iowa, too. Downtown Des Moines has so much to check out, and it's only about 20 minutes away from Altoona!
A WELCOMING COMMUNITY
Is Iowa a good place to live? Yes, especially if you're in the City of Altoona.
First off, it's affordable. The cost of living in Iowa is 9% lower than the U.S. average. This is even more exciting when you factor in Altoona's high per-capita and median household income. Altoona is arguably the best place to raise a family in Iowa, too. The city features numerous community amenities (such as parks, trails, art displays, etc.) and strong school systems that help residents enjoy a high quality of life.
MORE ABOUT ALTOONA, IOWA—A COMMUNITY THAT'S ALWAYS REACHING NEW HEIGHTS
Considering moving to Iowa? Making plans to relocate your business here? One of the best places to live in Iowa is Altoona, a city just minutes east of downtown Des Moines. Altoona offers a high quality of life, a business-friendly environment, and an exciting entertainment scene. This fast-growing community is where businesses and families come not only to live, but to thrive.
Over the last two decades, Altoona has experienced significant growth, and there are currently numerous opportunities for investors looking to purchase properties or developers looking to build.
Search our commercial property database here or request additional information to learn more about Altoona, Iowa's rising star.