Peggy Doane has walked around the world, literally.
As a member of the international walking association Volkssport and Iowa's Walking Club, Peggy has walked through the cities, towns and countryside of Eastern and Western Europe, Russia, Australia, New Zealand, and Iceland. And yet, even after all that traveling, one of Peggy's favorite walking destinations in the whole world is right here in her own backyard.
"Altoona's walking and biking trails are tremendous and well-maintained," Peggy said. "I get many compliments from walkers, and we have people visiting from all over the United States and abroad."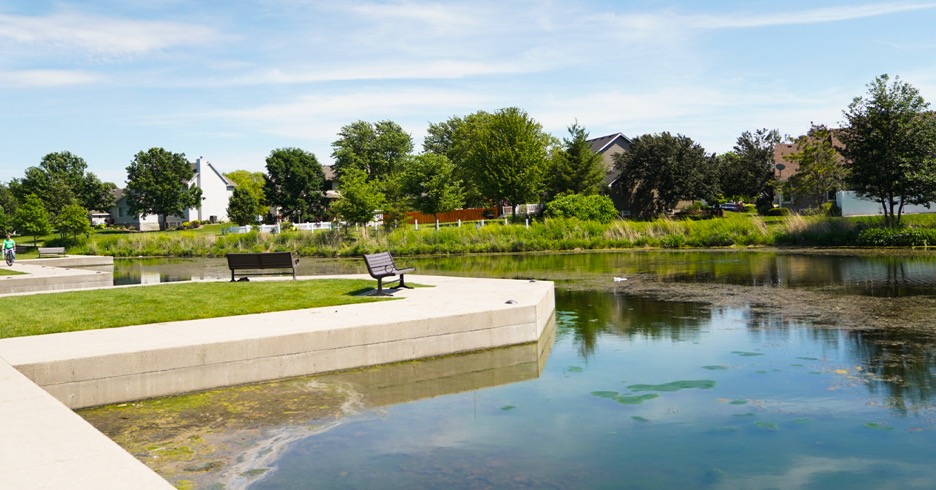 The long walk
Here's the thing about walks: Sometimes, you set out for a short one, a quick lap around the block, and it turns into a longer journey. You keep finding something new around every corner, meeting new people and discovering new places, and you just keep going.
That's true for life, too. When Peggy moved to Altoona in the summer of 1972, she and her husband didn't have any long-term plans. They had two children, and they had found an affordable 3-bedroom ranch in Altoona, a safe community with good schools not far from downtown Des Moines, where Peggy worked for the public school system. At the time, Peggy considered it a "beginner home."
Nearly 50 years later, there's nothing "beginner" about it.
Winding trails
Altoona is home to more than 28 miles of walking and biking trails, many of them connected to the Central Iowa Trail System, a vast network of paths that spans across the communities of Greater Des Moines and beyond. As the point-of-contact for the Altoona Volkssport Club, a branch of the Greater Des Moines Volkssport association, Peggy frequently organizes group walks along these trails, often with the help of Altoona City Planner Chad Quick.
Other days, she prefers to go it alone, walking or riding her recumbent trike along the winding trails. It's a great way to get some exercise and meet the neighbors. Especially the ones with four legs.
"I usually meet someone I know along the way, and I've become friendly with several dogs," she said. "Wherever I go, people say 'hi.' They are so friendly."
Old routes, new faces
Some things have changed over the last 50 years. Peggy's children have grown, started families of their own, and now live in other cities. Her husband passed away nearly a decade ago.
Things have changed outside the home, too. According to the 1970 census, Altoona's population was less than 3,000 when Peggy moved here. At the time, she says there wasn't a single stop light in town.
Today, Altoona is home to nearly 20,000 residents, a more than 500% increase since 1970. The population continues to grow as more families move to the area for its high quality of life, low cost of living, and employment opportunities.
Although Altoona has grown, Peggy, a "farm girl from southwest Iowa," says that the community still has the small-town feel that she fell in love with decades ago.
"When we first moved in, we became friends with the neighbors. My kids and the neighbor kids would ride their Big Wheels up and down the sidewalk. We didn't have to worry about them, as all the neighbors were out visiting and keeping an eye on all the kids. I know it's growing, but that doesn't bother me. Altoona has maintained that aura of friendship all the years I've lived here."
Walking alone can be peaceful, but it's good to have some company along the way. In addition to participating in and organizing the local walking club, Peggy has close friends throughout the community, and she considers the members of her local church to be part of her family.
"I live in a wonderful neighborhood with wonderful neighbors who are friendly and always ready to help. I would have to say my favorite thing about Altoona is the people."
Learn more
Want to take a walk with Peggy? If you're interested in joining Iowa's Walking Club, you can sign up here.
To learn more about living in Altoona, start here.