Finding retail space is a lot more complicated than you might think.
Whether you're a small business owner looking to open your first brick-and-mortar shop, or a commercial real estate investor trying to build up your retail portfolio, you'll be faced with lots of options when trying to secure a property that's the right fit.
An important (but often overlooked) aspect of this process is choosing the specific type of retail building that will best suit your needs. First, you'll need to learn what's out there.
Keep reading to learn more about different types of retail buildings and the kinds of tenants you'll typically find in them.
MALLS
Malls are some of the most iconic and recognizable commercial real estate properties in existence. They often contain around 100 stores with 400,000 total square feet of retail space, all under one roof.
They're typically "anchored" by leases with a few big-name department stores like Macy's, Younkers, Dick's Sporting Goods, etc. These key players help get customers in the door.
Apparel merchandisers, food vendors, convenience shops, and a whole host of other retailers occupy the remaining space, creating diversified revenue streams for investors and exciting experiences for shoppers.
FACTORY OUTLETS
Factory outlets (sometimes called "outlet malls") are another popular form of commercial real estate. They vary greatly in size, typically ranging from 50,000 to 400,000 square feet, often featuring a trademark outdoor layout.
Like "traditional" malls, these shopping centers are almost always anchored by leases from major brands like Nike, Gap, Kate Spade, and other nationally known retailers.
Factory outlets do well in high-traffic areas with lots of tourism, such as Altoona, Iowa. The City of Altoona brings in over 4 million visitors per year, with many of them visiting local shopping destinations like the Outlets of Des Moines.
POWER CENTERS
You may not be familiar with the term "power centers", but chances are you're familiar with their layout.
Power centers are a commercial real estate staple in suburban areas, especially near major highways. These roughly 200,000-square-foot complexes usually contain 3 or 4 big-box stores (Walmart, Best Buy, Lowes, etc.) located next to one another, with a large parking lot that often serves as a home for one or two fast-food restaurants.
Though big-box retailers are often their anchor tenants, some power centers may also feature a mix of smaller regional brands and service-based businesses.
Take 8th St SW near Highway 65 in Altoona, Iowa for example. Here, you'll find a Target, Staples, and Lowe's standing side-by-side, with a DoctorsNow Walk-In Care and Bankers Trust located at the edge of the parking lot.
LIFESTYLE CENTERS
Lifestyle centers are essentially 200,000 to 500,000-square-foot upscale malls without a roof.
Unlike malls, though, lifestyle centers don't always have department stores as anchor tenants. They usually opt for national chains of specialty apparel retailers like Old Navy, Polo Ralph Lauren, and others.
However, if lifestyle centers do have a department store anchor, it's often an upscale franchise like Nordstrom Rack.
Lifestyle centers are becoming increasingly popular as consumers continue to seek out walkable, high-end, and environmentally-conscious shopping destinations.
COMMUNITY CENTERS
Community centers are often referred to as "strip malls." They average between 100,000 and 400,000 square feet in size, and they're often anchored by 2-3 tenants such as discount apparel retailers or grocery stores.
The other businesses that lease space in community centers are usually convenience stores, drugstores, and local "mom-and-pop" shops.
NEIGHBORHOOD CENTERS
Neighborhood centers are basically just scaled-down community centers, offering up about 30,000 to 100,000 square feet of retail space.
They typically have the same types of anchor tenants as community centers, but feature supermarkets and grocery stores more frequently.
CONVENIENCE CENTERS
With 30,000 square feet or less of retail space, convenience centers are the smallest types of commercial complexes besides standalone stores.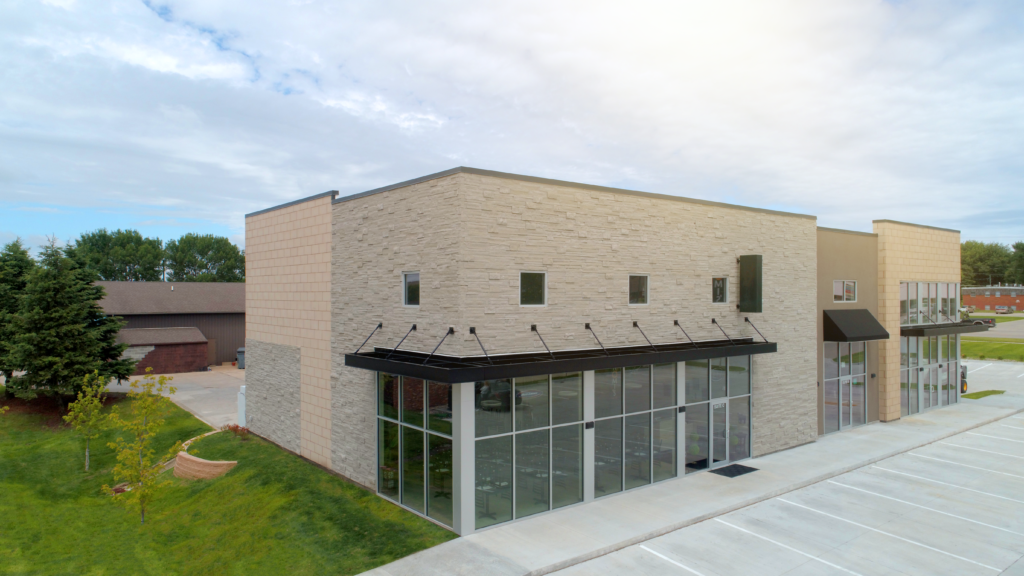 Unlike almost all other shopping centers, these stores pretty much never have a singular anchor tenant. They're often made up of a conjoined assortment of service-based businesses (like dry cleaners and hairdressers) and convenience shops (like mini-marts and drugstores).
Though the prospect of not having a big-name anchor tenant may seem risky, there's safety in numbers. Plus, convenience businesses are sometimes touted as being "recession-proof", since they tend to survive tough economic conditions.
MIXED-USE REAL ESTATE SPACES
Mixed-use real estate refers to properties that feature some combination of commercial, office, and/or residential space.
These buildings vary greatly in size, encompassing everything from small rows of connected storefronts with apartments on top to massive mid-rise complexes that occupy entire city blocks.
Many mixed-use layouts (like the famous "5 over 1" building) utilize the first floor for retail or office space, and the floors above it for multi-family housing. Essentially any business can occupy the commercial portion, but restaurants and convenience stores seem to be the most common.
Overall, mixed-use real estate is excellent for promoting walkability and housing density and is becoming a lot more common in suburban markets.
Altoona's Prairie Crossing area is a prime location for these types of developments.
OTHER TYPES OF RETAIL BUILDINGS
Plenty of retail buildings exist that don't fall into neat categories like the ones mentioned above.
They're often free-standing stores, owned and operated by companies like Bass Pro Shops, furniture stores, movie theaters, and other "experiential" retailers.
ALTOONA, IOWA REAL ESTATE: PLENTY OF RETAIL SPACE
Need to find retail space for lease in Iowa? Want to invest in a commercial property? Begin your search in the City of Altoona, a community just minutes east of Des Moines.
There is a plethora of retail opportunities in Altoona, Iowa, for businesses of all sizes. Our city is a leader in economic development, boasting an extensive inventory of commercial real estate properties that are supported by exciting incentives, grants, and tax credits.
Over the last two decades, Altoona has experienced significant growth, and there are currently numerous opportunities for investors looking to purchase properties or developers looking to build.
Search our commercial property database or request additional information to learn more.